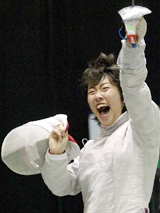 China's saber queen Tan Xue, a gold-taking point at the Beijing Olympics, is facing a tougher period, said Wang Jian, the leader of the Chinese national women's saber team on Sunday.
"Tan Xue's arch rivals have taken her as their No. 1 target and studied her tactics and techniques a lot. It seems hat her opponents have found the way to beat her," Wang said during the 2008 FIE Women's Saber World Cup Grand Prix in Tianjin. "Furthermore, Tan is not in her best form now and has to make some changes from now on," Wang added.
As the women's saber silver medal winner at the Athens Olympic Games, Tan Xue is considered to be one of the top favorites for a gold at the Beijing Olympic Games. However, she lost to her teammate Bao Yingying 10-15 last week in the Grand Prix in Tianjin, and that was her best result of this season. However, Wang Jian expressed the hope that Tan Xue can show her best form at the Beijing Olympic Games.
Source